IRCCS ISMETT – UPMC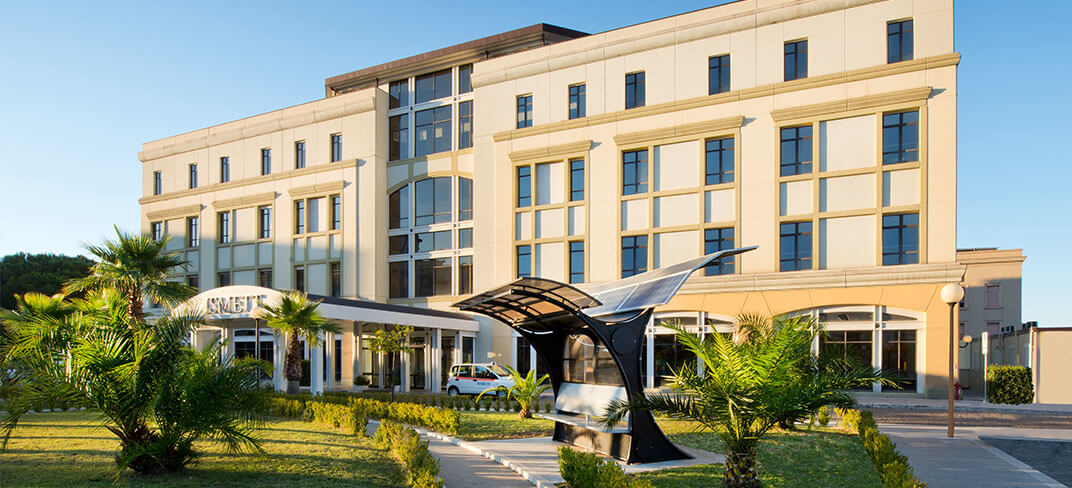 ---
The Mediterranean Institute for Transplantation and Highly Specialized Therapies (ISMETT), is a Scientific Institute of Hospitalization and Care (IRCCS). Established in Palermo in 1997, ISMETT deals with care and research for terminal organ failure.
ISMETT is a leader in the field of transplantation, cardiothoracic and abdominal surgery, and highly specialized therapies. The facility is an example of innovative and efficient health care management. A point of reference in the Mediterranean basin, it was born from the international partnership between the Sicilian Region and UPMC. In June 2017, the Ri.MED Foundation, established by the Presidency of the Council of Ministers, became members of ISMETT.
ISMETT offers all available organ transplant programs, obtaining clinical results equal to those of the best international centers. Data provided by the National Transplant Center in Italy verifies this.
The Institute, which covers an area of 12,000 square meters, has:
Four operating theatres.
A department of abdominal pediatrics.
Laboratories of analysis, microbiology, and pathological anatomy.
A Department of Radiology.
A pharmacy service.
Multi-specialty clinics.
A medical oncology center, part of the UPMC Hillman Cancer Center network.
All clinical activities offered by ISMETT are characterized by the multidisciplinary approach of its team of specialists, who offer cutting-edge therapies conducted with advanced technological services.
Doctors and health professionals come from different parts of the world, enriching ISMETT's services with experience and professionalism gained in international academic and hospital facilities. Specialists work closely with colleagues within UPMC's international network.
For all these reasons, the Institute attracts many patients from the Mediterranean area.
Quality and Safety at ISMETT
ISMETT is the first hospital in the South of Italy to have received accreditation from the Joint Commission International (JCI). JCI is one of the most advanced accreditation systems for the quality assessment of healthcare facilities.
The accreditation confirms the excellence of the Palermo Transplant Center in the care and safety of the treatments offered to patients. It also testifies to its commitment to the continuous improvement of activities in terms of clinical results, management, and reception.
In this context, ISMETT also promotes and organizes training programs for staff, involving hundreds of doctors, nurses, technicians, and administrators every year.
Benefits and Services
At ISMETT, you will have access to all types of solid organ transplant programs performed on adult patients. In the case of liver, kidney, and lung transplants, these are also suitable for pediatric patients.
In addition, the Institute offers specialized services aimed at those who, without needing transplants, suffer from serious diseases that can lead to terminal organ failure.
In particular, ISMETT's specialist services can be divided as follows:
Department of Anesthesia and Intensive Care
Anesthesia and Resuscitation.
Department for the treatment and study of abdominal pathologies and abdominal transplants
Abdominal surgery and transplants.
Hepatology and gastroenterology.
Nephrology.
Diabetology.
Infectious diseases.
Clinical psychology.
Neurology.
Department of Pediatrics for the treatment and study of abdominal pathologies and abdominal transplants
Pediatrics.
Pediatric abdominal surgery.
Pediatric transplants.
Pediatric hepatology.
Treatment of rare diseases.
Atresia of the biliary tract.
Liver transplantation for biliary atresia.
Interventional radiology.
Endoscopy.
Pediatric surgical clinic.
Meso-Rex bypass.
Department for the treatment and study of cardiothoracic diseases and cardiothoracic transplants
Cardiac surgery and heart transplants.
Cardiology and hemodynamics.
Pulmonology.
Thoracic surgery and lung transplants.
Diagnostic and Therapeutic Services Department
Radiology and nuclear medicine.
Digestive endoscopy.
Pathological anatomy.
Medical oncology.
Department of Laboratory Medicine and Advanced Biotechnology
Laboratory.
Research laboratory.
DH clinics and clinical services
Social assistance.
Dietetics.
Pharmacy.