UPMC Salvator Mundi International Hospital
---
UPMC Salvator Mundi International Hospital (SMIH) was the first international private hospital in Rome. It has been in operation since 1951 and is located in the heart of the city center. It has always been a focal point for medical care for the Italian and international communities.
SMIH has:
82 beds.
Six multi-specialized and highly-specialized operating theatres. Two are dedicated low-complexity outpatient theatres, one for refractive ophthalmological surgery, an angiography room and two completely renovated rooms, including a new integrated smart room (SMART ROOM ISO 5) dedicated to neurosurgery, cardiac surgery, and the latest robotic surgery technology including the DaVinci and Mako robots.
One angiography room for hemodynamics and interventional radiology.
Medical clinics and diagnostics in many specialties.
Diagnostic Imaging Center. The department is equipped to perform any type of radiological examination including interventional procedures, such as biopsies and drainages, which can also be carried out on 24/7 basis. The center also has Somatome Force CT scan (fast and low radiation exams) 1.5 Tesla Magnetic Resonance, MOC-DXA, Mammography with Tomosynthesis and latest generation ultrasound and digital radiology.
Physiotherapy and rehabilitation center with a hydrokinesotherapy pool, an area of 500 square meters with a physio gymnasium, area for physiotherapy and osteopathic treatments and a therapeutic pool.
Clinical and microbiological analysis laboratory. This laboratory deals with blood and urine, microbiological and parasitological tests for allergies and intolerances and also for tropical and international medicine. For emergencies, the laboratory is available 24/7 and the patient, if needed, can request home-based treatment.
Dedicated first-aid and outpatient surgery.
Intensive Care Unit (ICU). It has 4 beds, each station has ventilators, vital parameters monitoring systems and devices for the continuous administration of drugs and infusions.
UPMC Salvator Mundi International Hospital is a reference point for Italian and international patients for a wide range of services, including First Aid, diagnostics, orthopedics, women's healthcare, and surgery, including robotic and minimally invasive. The clinic is equipped with technologically advanced operating rooms, clinical and microbiological analysis laboratories and state-of-the-art equipment. Our bilingual and highly qualified staff provides innovative and personalized care and therapies in the highest standards of safety and comfort. UPMC Salvator Mundi International Hospital operates 24/7 and partners with all the major Italian and international insurances and funds.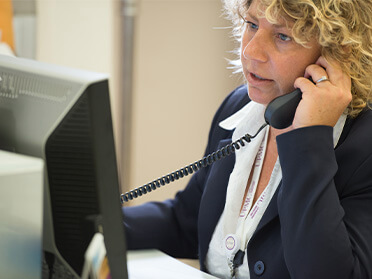 Insurance and Conventions
We offer medical services and services on a private basis or in agreement with the main insurance companies. Some of our services are also affiliated with the National Health System.
For more information on active agreements, visit: