Orthopaedics at UPMC Salvator Mundi International Hospital
UPMC Salvator Mundi International Hospital provides highly specialized orthopaedic services thanks to the targeted contribution of numerous orthopedists. Their specializations range from therapeutic treatment to the use of innovative techniques such as robotic prosthetic surgery.
Diagnostics and Treatment
UPMC Orthopaedic Care at UPMC Salvator Mundi International Hospital ensures rapid response throughout the care process, from diagnostics to therapeutic treatment, to rehabilitation and the restoration of function. At UPMC, you can request specialist services and professional opinions of various kinds. Our orthopedists also benefit from the advice offered by specialists in Pittsburgh, Pa. (U.S.). In one location, you will have access to a variety of services, including:
Diagnostic insights.
Specialist visits.
Individualized clinical treatments.
Highly specialized, minimally invasive, and robotic surgery.
Rehabilitation.
Our multi-specialist team, made up of radiologists, anesthesiologists, surgeons, physicians, and physiotherapists, offers you a complete treatment path. In addition, experts at UPMC Salvator Mundi's Physiotherapy and Rehabilitation Center will be at your disposal for individualized physiotherapy and hydrokinesitherapy treatments, often used in functional recovery following surgery or a traumatic injury.
Pathologies Treated
At UPMC, you will be followed by our orthopedists in the treatment of various pathologies. These include:
Orthopedic problems resulting from chronic-degenerative diseases (i.e. rheumatoid arthritis) or congenital malformations.
Problems caused by sports or other injuries.
Skeletal, bone, tendon, ligamentous lesions.
Pathologies of the spine.
Orthopaedic Services
At UPMC Salvator Mundi, the specialist areas in which you can undergo orthopaedic services are:
Prosthetic orthopedic surgery.
Robotic orthopedic surgery.
Hand surgery.
Foot surgery.
Hip surgery.
Knee surgery.
Shoulder surgery.
Ankle surgery.
Post-traumatic surgery with 24-hour emergency service.
Regenerative orthopedic surgery.
Sports medicine.
Interventional spinal radiology.
Our Doctors
Orthopaedics at UPMC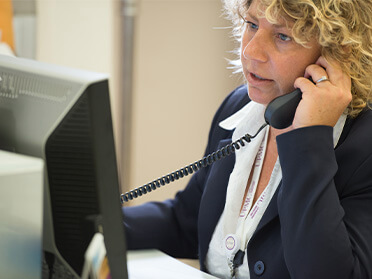 Insurance and Conventions
We offer medical services and services on a private basis or in agreement with the main insurance companies. Some of our services are also affiliated with the National Health System.
For more information on active agreements, visit: