Best Wishes to Our UPMC HCC San Pietro FBF!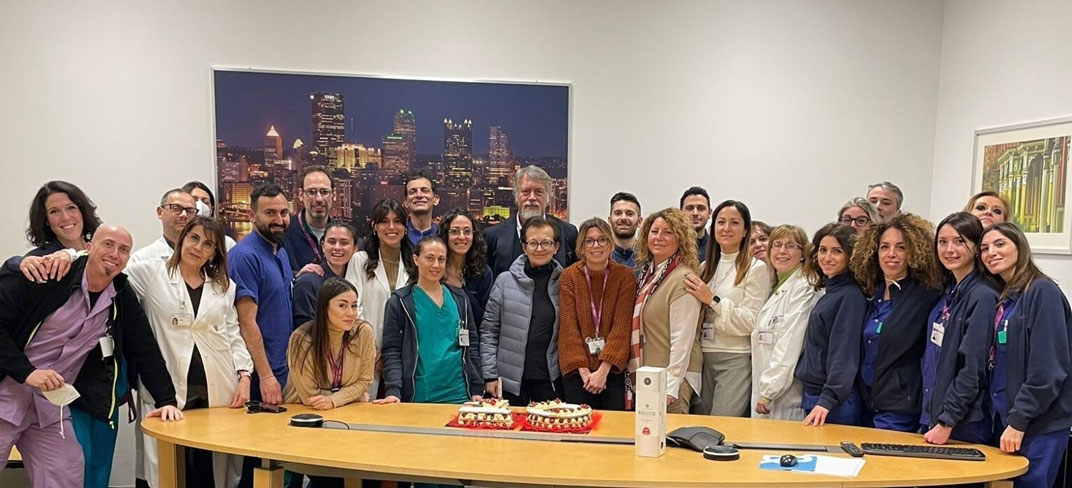 17 January 2023
Ten years ago, UPMC opened in Rome its first advanced radiotherapy center in Italy putting into operation for its patients the first Varian TrueBeam™ STx linear accelerator in central-southern Italy. Today, the Center is third in Italy for stand-alone radiotherapy.
Since 2013, we have provided more than 80,000 treatments to over 7,000 patients.
More than 50 professionals trained on site, between Pittsburgh and Rome, transferring the oncology know-how gained in over 30 years of activity, and contributing to creating a new generation of experts who today work in many Italian hospitals.
The training mission of the Center is also reflected by the 7 editions of our Radiotherapy Symposium that have become an annual event bringing dozens of experts to Rome from all over the world to share knowledge and international best practices on stereotactic radiotherapy, with a focus on the multidisciplinary approach between the different clinical disciplines, facilities, and fields.
Technological innovation – thanks to the constant updating of software and hardware that have allowed the Center to become a training center for Brainlab and Varian technologies – and quality are at the heart of everything we do at the Center, which was accredited by Joint Commission International in 2017, and successfully re-accredited in 2020 for the following three years.
The best reward for us is patient satisfaction: with a perceived satisfaction of 98%, this year our Center received the prestigious Guardian of Excellence Award® for Patient Experience by Press-Ganey.
We asked Prof. PierCarlo Gentile, Medical Director of the Center since its opening, to summarize these first 10 years:
"Ten years after the first patient we treated, we want to take this opportunity to reflect on the experience gained over this long period of time. The first feeling is contradictory: it seems like yesterday when we first started this journey. Only our figures show how far we have come alongside our patients, day after day.
In our team I see dedication, passion and commitment of those who started their professional career with us. We strive to deliver the best possible care to our patients, and we took no shortcuts but instead continued to focus on training and development, technological innovation and safety, keeping a constant focus on the humanization of care.
Although clinical results are and will always be the goal of therapies, the words and smile of our patients who feel welcomed and protected are equally important to us."