ISMETT-UPMC: Third International Quality Symposium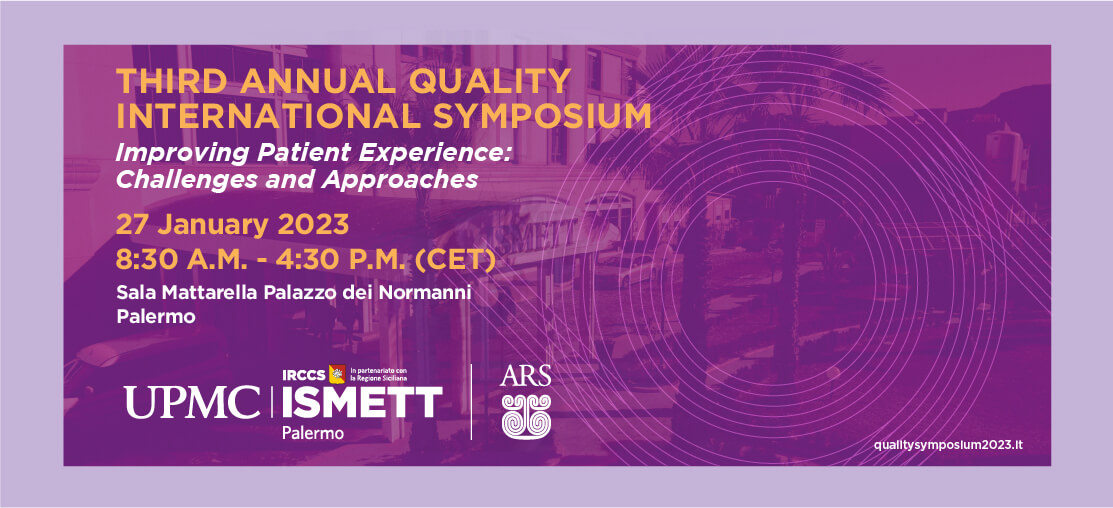 23 January 2023
Third International Quality Symposium: "Improving Patient Experience: Challenges and New Trends". Patient experience, infrastructures and new technologies are becoming more and more crucial in new health care models.
The International Quality Symposium took place on 27 January at Sala Mattarella in Palazzo dei Normanni (Palermo): "Improving Patient Experience: Challenges and New Trends", organized by IRCCS ISMETT and UPMC.
Third International Quality Symposium: new approaches to improve patients' quality of life
During the third edition of the annual symposium, international field experts discussed how to improve the patient experience and the patient satisfaction. "The key factors of patient experience are multiple," explained Angelo Luca, CEO IRCCS ISMETT – UPMC. "First of all, it's important to provide effective and safe care to patients who are becoming increasingly informed. They have expectations, they want to be at the center of the patient care process, and receive complete, continuous, and personalized medical care."
New challenges after COVID-19
The pandemic highlighted the importance of having health care providers with appropriate technical skills. "Staff engagement in their work and within the organization," explained Angelo Luca, "is another element that has a significant impact on the patient experience, quality of work, and performance. Two years ago, we launched a program to measure and improve staff engagement."
The role of technology
The important role of infrastructures and technologies was also discussed during the symposium. "In the last year or so we have been working with the studio of Architect Piano for the new ISMETT hospital in Carini, near Palermo. Having adequate space for patients, visitors and staff, comfortable inpatient rooms guaranteeing privacy and calm, and reducing hospital-acquired infections, increases satisfaction and ensures safe and efficient care. In addition, the surrounding nature environment will have a positive impact on the patients' physical and mental health, helping to reduce stress, depression and anxiety, and improve sleep," said Dr. Luca.
Technology increasingly at the heart of health care models. During the symposium, many presentations stressed how designing patient-focused health care processes and pathways is essential to improve the patient experience. Advanced technology such as smart hospitals can help improve the quality and efficiency of care. "Today technology offers us various different solutions, such as asset control systems, real-time localization of health care providers, patients, and equipment. This can help to avoid unnecessary losses of time and increase the number of services for patients, automate scheduling, check-in and check-out, smart operating rooms, maintenance of equipment based on their actual usage and not according to scheduled periodic tests, monitoring energy consumptions, navigation, geo-notification, and robots delivering medications and meals. This is the so-called smart hospital, which is instrumental to improve safety, quality of care, and efficiency," concluded Angelo Luca.
Information
The symposium was free, valid for 6 CME credits, and available also in live streaming.
Program of the Third International Quality Symposium IRCCS ISMETT-UPMC (PDF)