Pneumology FAQs
I have been suffering from a persistent cough for several weeks and would like to investigate the problem further. What diagnostic tests should I do?
To make a differential diagnosis between the different pathologies that could cause a cough, it is necessary to make a pneumological examination with an accurate clinical history (anamnesis) to request specific tests to identify the problem in question.
My child often makes a small hiss when he breathes. Maybe it's an allergy or a more serious asthma problem? Does the clinic specialize in pediatric pulmonology?
The clinic is able to manage pediatric respiratory diseases and diagnoses.
How can I prevent the onset of lung diseases?
The best way to do this is through a specialist visit and a specific check-up.
I smoked for 20 years without ever having a checkup. Now my breathlessness has increased and I am starting to worry. I would like to analyze my state of health. What do you advise me to do?
We would advise a specialist pulmonary visit, a chest X-ray, and a global spirometry with reversibility test.
When I sleep I wake up with a dry throat and I realize that I snore a lot. Is it a symptom of something wrong?
This is an upper airway obstruction and must be addressed before it can cause irreversible damage.
To be sure of my health I would like to have a lung check up. How can I proceed?
Please make a reservation at UPMC to see our specialists.
I often have trouble breathing, even without exertion. Should I be worried?
This is definitely a symptom not to be underestimated and should be dealt with as soon as possible. Please schedule a pneumological examination at UPMC.
My wife said that at night, during sleep, I sometimes stop breathing. I wake up tired as if I had not rested. What could this be?
It could be a very important disease, often underestimated, called "obstructive sleep apnea syndrome", capable of causing damage to the heart and brain over time.
My father has smoked for many years and now suffers from emphysema. We know he can't heal, but can respiratory rehabilitation help him?
Rehabilitation can often improve the quality of breathing, or rather, ventilation and respiratory volumes.
Sometimes I suddenly wake up with a cough and a feeling of lack of air. What can I do?
At UPMC, a pulmonologist will be able to evaluate these disorders through a polysomnography or a specific sleep study.
I have had a high fever and cough for several days. I'm afraid it's pneumonia and I wouldn't want to overlook it. How can I check it?
Please schedule an exam by a specialist and then, if necessary, they will take a chest X-ray.
Is it true that adopting a lifestyle that is as healthy as possible helps prevent lung diseases?
Prevention certainly plays a fundamental role.
I worked for 30 years as a construction worker and, despite the precautions, was always in contact with dusty and "unhealthy" environments. I want to know if my health has been damaged by this. What kind of exams would I need to do most urgently?
A lung screening will allow doctors to diagnose, and treat any damage suffered.
I would like to quit smoking but I am afraid of gaining weight. Does your smoking cessation helpline also have a nutrition and physical activity program?
Certainly a correct dietary approach and an adequate gradual increase of physical activity will allow you to reduce weight gain. Our structure is able to offer an adequate support program along this path.
During the spring or in closed places, I have sneezing, tearing, sometimes itching and burning in the eyes. Do I need to take tests to see what I am allergic to?
At UPMC, after a careful pneumo-allergological examination and after carrying out allergic tests, it will be possible to identify the allergen or allergens responsible for the respiratory disorder. We will then be able to intervene through therapy to solve the problem.
How could I go about booking a series of tests in a single morning?
Our Centers are available to organize all investigations according to your needs. Contact the Center closest to you.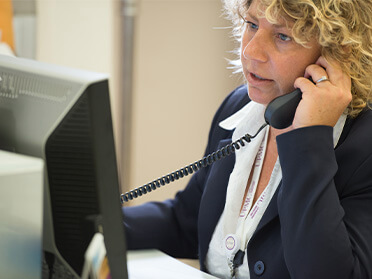 Insurance and Conventions
We offer medical services and services on a private basis or in agreement with the main insurance companies. Some of our services are also affiliated with the National Health System.
For more information on active agreements, visit: