Rheumatology and Autoimmune Diseases
UPMC provides diagnosis and treatment of rheumatic diseases, such as rheumatoid arthritis, systemic lupus erythematosus, scleroderma and vasculitis. Our medical team, made up of personal care and rehabilitation specialists, deals with the treatment of patients of all ages for whom rheumatic and autoimmune disease is either suspected or already diagnosed.
Book an Appointment
UPMC offers rheumatology services at the following facility:
What is Rheumatology?
Rheumatology is the branch of internal medicine that deals with rheumatic diseases. These diseases, the causes of which are generally multi-faceted and difficult to define, are characterized by developmental stages in which symptoms can worsen in a way that is not always predictable or stable.
These conditions are often chronic and can even become disabling. Both genetic, environmental and social factors related to the context in which we live can affect their development and course. In general, there are approximately a hundred conditions that involve the immune system and for which the inflammatory response of our organism is decisive.
The main rheumatic diseases are:
Arteritis (or Vasculitis), such as Horton's arteritis: a chronic inflammation of the large and medium arteries of the head, neck and trunk, and Behçet's disease, which causes small wounds in the joint tissues, rashes, pain and stiffness of the limbs.
Arthritis: They affect millions of people in Europe and include rheumatoid arthritis, psoriatic arthritis, spondylitis, osteoarthritis, systemic lupus erythematosus (SLE), fibromyalgia.
Arthrosis: Considered the most common rheumatic disease, it usually occurs between the ages of 50 and 60. It is characterized by the degeneration of cartilage tissues, which leads to a loss of function in the joints.
Rare conditions: Such as osteomalacia a pathology that causes a reduction in bone mass, and algodystrophy, that manifests itself with edema and burning in the hands and shoulders or feet.
Systemic sclerosis: A pathology that induces degenerative changes on the skin, joints and internal organs and anomalies of the blood vessels.
Sjögren's syndrome: The immune system attacks some glands in the body, such as the salivary and lacrimal glands, causing them to become inflamed.
Rheumatology Services We Provide
UPMC provides comprehensive assistance to people who suspect they have a rheumatic disease or who have already received such a diagnosis. At UPMC, patients will be able to undergo visits, laboratory analyses and examinations such as joint ultrasound scans, in order to fully understand the symptoms of the disease and identify the causes.
Our specialists will evaluate any tests already carried out and will collect information on the patient's lifestyle. Specifically, nutrition, physical activity and the level of sedentary lifestyle, smoking habits, alcohol consumption, drug intake. The rheumatologist will also ask questions to fill out a careful family history.
In addition to the visit, at UPMC all the necessary tests are carried out to understand if the patient has a rheumatic disease and to verify its evolution:
Blood tests.
Radiological examinations.
Cardiological examinations.
Capillaroscopy, joint ultrasound, arthrocentesis and other specific examinations.
Who can contact the Rheumatology Department?
UPMC's rheumatology specialists assist people with symptoms consistent with the diagnosis of a rheumatic disease, such as:
Joint swelling and pain, a condition that lasts beyond three weeks.
Difficulty or pain in movement upon awakening.
Sudden swelling in the joints.
Fingers that turn white when you get cold or in response to emotional stress (Raynaud's syndrome). Sensation of dry eyes and mouth, combined with joint pain.
Red facial skin, which gets worse with sun exposure.
Our team will accompany you throughout the diagnostic and therapeutic process, through a personalized path that makes use of the collaboration of various medical specialists. Rheumatic diseases can involve the joints, bones, skin, immune system, and therefore require treatment based on the teamwork of doctors who are experts in various disciplines.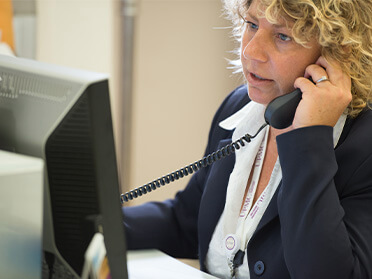 Insurance and Conventions
We offer medical services and services on a private basis or in agreement with the main insurance companies. Some of our services are also affiliated with the National Health System.
For more information on active agreements, visit: