Interventional Spinal Radiology at UPMC
At UPMC, we have innovative techniques for treating spinal disorders and use guided spinal interventional CT. In other words, within the scope of spinal interventional radiology, we perform all surgeries under the guidance of the CT scan.
With the help of the latest generation radiological equipment, we are able to evaluate in real time the state of the tissues subjected to study. The combination of CT scan and radioscopy also allows specialists to minimize operational risk, allowing for maximum precision during surgery.
Book Spinal Interventional Radiology Exams at UPMC
Spinal interventional radiology exams are available at the following UPMC facility:
Spinal Interventional Guided CT Scan
Performing guided spinal interventional CT procedures offer several advantages:
Precision of the intervention and reduction of complications and operative risks. The CT guide provides a 3D view of the patient's body in real-time, allowing increased precision during surgery.
No general anesthesia. Operations are performed under local anesthesia.
Reduced surgery duration, hospitalization, and recovery. Under normal conditions, the duration of an intervention can be a few minutes, or last a maximum of 45-60 minutes. Hospitalization times are reduced and, in some cases, discharges come within a day. In addition, since post-operative rehabilitation is not necessary, patients can return to their daily activities soon.
Reduction of exposure to ionizing radiation. A minimally invasive percutaneous operation results in a reduction of about 90% of the radiation absorbed by the patient.
Absence of deep scars. The surgery is performed cutaneously, without the need to make deep incisions in the muscle-ligamentous tissues.
Absence of superficial scars. Typically, skin incisions are unnecessary and are replaced by the simple introduction of coaxial retractors.
Procedures and Interventions
UPMC offers procedures and interventions aimed at treating spinal disorders. Among them are:
Biopsy.
Tumor cryoablation or radio ablation.
Basivertebral denervation.
Endoscopic denervation.
Percutaneous (mechanical/chemical) discectomy.
Interspinous spacer.
Sacroiliac fixation.
Posterior fusion (trans/intra-facet).
Sacroiliac fusion.
Transarticular fusion.
Intradiscal infiltration.
Periganglia infiltration.
Ganglion neuromodulation.
New vertebral plastic techniques (vertebroplasty, stent-plastic, vessel-plastic).
Transfaceted radio ablation-fixation.
Radioablazione endoscopica sacroiliaca.
Vertebral stabilization.
Pathologies Treated
At UPMC, we treat a wide variety of patient pathologies. In particular, among the pathologies of the spine treated through the use of guided spinal interventional CT there are:
Stenosis of vertebral canal or vertebral foramen.
Herniated disc or herniated disc.
Vertebral fracture caused by trauma, osteoporosis, or tumor.
Chronic joint lumbar pain, chronic lumbar arthritis.
Chronic vertebral lumbar pain, heterogenic pain due to vertebral painful edema (on a mechanical basis).
Chronic radicular pain.
Chronic sacral lumbar pain, chronic sacroiliitis, sacroiliac instability.
Chronic sciatic pain, neuropathic sciatic pain, chronic root damage.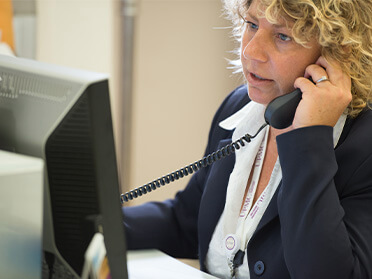 Insurance and Conventions
We offer medical services and services on a private basis or in agreement with the main insurance companies. Some of our services are also affiliated with the National Health System.
For more information on active agreements, visit: