Heart and Vascular Services at UPMC Salvator Mundi International Hospital
At UPMC Salvator Mundi International Hospital (SMIH), we assist those suffering from heart and vascular diseases, including dilation and narrowing of arterial and venous blood vessels, cardiac arrhythmias, and valve abnormalities. At UPMC, you can undergo diagnostic tests and vascular surgery on an outpatient basis, day surgery and through hospitalization. Procedures and interventions can be performed with conventional and endovascular technique or minimally invasive.
What is Angiology and Vascular Surgery
Angiology is the medical branch that deals with venous and arterial vascular diseases, from prevention to treatment. In particular, for their treatment, angiology specialists can resort to vascular surgery, which uses techniques of repair, replacement and removal of blood vessels.
Angiological services include visits and examinations to ascertain the health conditions of arteries and veins, for the prevention of any abnormalities and diseases. In addition, they are used to monitor existing pathologies, and the cardiac rehabilitation which is necessary after cardiac surgery.
Vascular surgery is used for both diagnostic and therapeutic purposes. In the case of diagnostics, our specialists use targeted clinical procedures, including:
Angiography.
MRI angiography.
Angiography with computed tomography.
Echocolordoppler.
At the therapeutic level, however, the vascular surgeon uses techniques and procedures such as:
Ablation: This involves creating small lesions on the tissue of the cardiac atrium and electrically isolating some areas, thus solving the causes of arrhythmia.
Angioplasty: This is where surgeons introduce a balloon catheter in order to widen a coronary narrowing and restore regular blood flow to the heart.
Endarterectomy: A procedure to remove plaques in the artery that cause obstruction.
Insertion of bypass.
Surgical repair: (traditional or endovascular procedure) of abdominal aortic aneurysms.
Sclerotherapy: To scar varicose veins, and venous stripping, which involves the removal of a segment of vein or to treat varicose veins.
Angiological and Vascular Surgery Services
The specialists at UPMC Salvator Mundi International Hospital provide comprehensive care to anyone who has or suspects a vascular disease. In particular, they perform the following services:
Vascular diagnostics – echocolordoppler: This can provide imaging of the arterial system, venous system, the vessels of the neck, abdominal aorta, and large vessels of the abdomen and of the intracranial district.
Treatment and microsurgery of lymphedema: This chronic and progressive pathology manifests itself with swelling caused by the abnormal accumulation of lymph, a protein-rich liquid, in the tissues of the upper or lower limbs. At UPMC SMIH, we can treat lymphedema with microsurgery, venous lymphatic bypass and lymph node transfer, as well as manual lymphatic drainage and compression bandaging.
Prevention and treatment of peripheral arterial disease.
Vascular access surgery for dialysis.
Phlebological surgery: For pathologies of the venous system.
Vascular surgery: We treat: aortic arch aneurysms, type B aneurysms and dissections of the thoracic and thoraco-abdominal aorta and arch, abdominal aortic aneurysms, iliac arteries, and popliteal arteries. We also can target obstructive pathologies of the lower and upper limbs, visceral/renal artery pathology and supra-aortic trunk pathology (stenosis of the carotids, vertebral and subclavian arteries, glomic tumors). Other treatments include carotid stenosis and obstruction, stenosis and aortoiliac and lower limb obstruction, and prevention and treatment of peripheral arterial disease.
Venous surgery for venous insufficiency: for the treatment of so-called "varicose veins".
Treatment of ulcerative lesions, angiomas and cardiovascular malformations.
Angiological and Vascular Conditions We Treat
Among the vascular pathologies that our specialists in angiology and vascular surgery deal with, there are conditions that can affect both blood vessels and heart muscles. These include, for example:
Aneurysm of the abdominal aorta: This occurs when a portion of the abdominal aorta widens, with the risk of rupture and, therefore, bleeding.
Angina pectoris: A chest pain caused by the fact that an area of the heart does not receive enough blood.
Aortic dissection: A tear in the inner layer of a weakened part of the aorta.
Aortic stenosis: Anarrowing of the opening of the aortic valve.
Arrhythmia: This is a condition in which the heart beats irregularly, too fast or too slowly.
Arteriovenous malformation: Involving the blood vessels that connect arteries and veins in the brain.
Atrial fibrillation: The presence of an irregular and often rapid heart rhythm that can lead to blood clots.
Brugada syndrome: A genetic disorder that can cause an irregular heartbeat.
Bueger's disease: Causes inflammation and the blockage of blood vessels in the arms and legs.
Chronic venous insufficiency: This occurs when the veins in the legs can no longer pump blood to the heart.
Congenital heart conditions: These are defects present already at birth, such as narrow blood vessels, murmurs in the heart valves or holes in the cardiac septa.
Connective tissue disorder: A condition that results in a weakening of the walls of blood vessels.
Who Are Our Angiology and Vascular Surgery Services For?
At UPMC Salvator Mundi International Hospital, you can undergo specialist angiology procedures to diagnose a possible vascular condition or for preventive purposes. You can also contact our specialists to undertake a personalized therapeutic path to improve or solve the specific pathology you suffer from. Our doctors will be by your side during the post-operative recovery phases – after interventions such as, for example, the one necessary for the insertion of a bypass.
In addition, UPMC SMIH is equipped to assist you in the event, and aftermath, of an acute cardiac event, such as a heart attack.
Our Doctors
Heart and Vascular at UPMC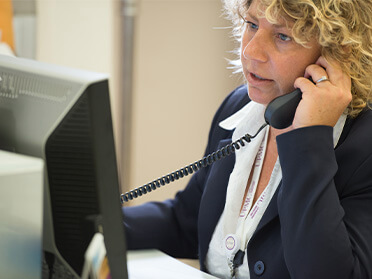 Insurance and Conventions
We offer medical services and services on a private basis or in agreement with the main insurance companies. Some of our services are also affiliated with the National Health System.
For more information on active agreements, visit: